Check out this 2 minute video on the Strong: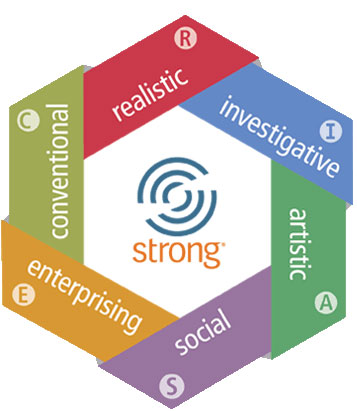 Strong Interest Inventory®
When psychologists like E.K. Strong were looking into the reasons why some people were satisfied with their careers and others were not, they discovered that people employed in the same occupations had similar interests. Strong theorized that if there was a way to assess people's interests, they could use that information to help choose a suitable career. In 1927, Strong created a self assessment instrument that did just that. Continually refined and backed by over 80 years of research, the modern Strong Interest Inventory® assessment is considered one of the most widely respected and frequently used career planning tools in the world.
The Strong Interest Inventory provides robust insights into your career interests, helping you to discover potential career paths you may not have considered, and giving you a wealth of information about how you approach the world of work. The range of general and specific information it extracts about your professional interests can empower you in identifying a rich and fulfilling career.
The Strong assessment can support you in:
Career development: The Strong assessment heightens people's self-awareness and provides deeper understanding of individual strengths and blind spots, including work style and orientation to risk taking.
Career exploration: By identifying personal interests and how these relate to different occupations, the Strong assessment opens up the world of work to first-time career seekers and people considering a career transition.
Reintegration: Have you been out of the workforce for a while? The Strong assessment helps people navigate career choices as they re-enter the workplace.
Choosing a college major: The Strong assessment helps students uncover their career interests and identify which areas of study are appropriate or required for a particular field, allowing them to focus on classes relevant to their goals.
For more information or to arrange to take the Strong, please contact us.