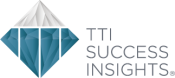 A DISC behaviors assessment is designed to offer helpful insight into how you behave, including how you respond to:
Problems and challenges
Influencing others
Pace of environment
Rules and procedures
With this information, you can understand how to interact more effectively with others and improve your abilities as a leader.
DISC, which was first developed by William Marston, measures a person's behaviors across four neutral dimensions: Dominance, Influence, Steadiness and Compliance. We use the TTI Success Insights® behaviors assessment, a research-based, validated instrument that measures behaviors using the DISC theory.
Please contact us for more information on how DISC assessments can benefit you and your organization.